Coming to the Ozarks?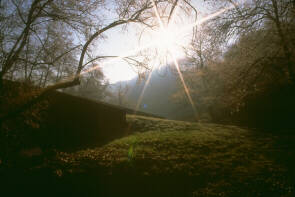 We'd shore be tickled to have you fer a visit! The Ozarks are full of rolling hills, purty scenery, resorts, and lots of friendly folks. It's a downright nice place to go fer a vacation! With huntin', fishin', theme parks, crafts fairs, and shoppin', there's somethin' fer almost everyone! Here's some places you might want to check out if ya decide to come for a visit. Careful, though! Once y'git a breath of that clean air, and a taste of some of our down home cookin', y'might just decide to stay fer a while. And after the first month or so, yer people back home might start wonderin' what happened to ya! Hee! Hee!
---
The OFFICIAL Springfield, Missouri Home Page
Fishing the Missouri Trout Parks
Locales for Flyfishing in Missouri
Grandpa's Farm Bed & Breakfast
Local Sightseeing Companies & Organizations
Eureka Springs Traveler (a little more detailed)
---
I'll be addin' more places as I run across 'em. Meanwhile, if'n you know of some place you like in our neck o' the woods that ain't listed here, let me know and I'll be sure to add it. Or if yer a native and know of a place, or have a place of yore own you'd like listed, let me know that too!

Hillbilly Dave's | Question of the Month | The Lighter Side of the News | Hillbilly Humor
Words o' Wisdom | The Porch | Who (or what) is Hillbilly Dave? | Awards | Links | The Armory